In the Autumn term, our topic has been 'Prehistoric Times' and we have been learning all about Britain in the Stone Age through to the Bronze Age.
We have studied Stonehenge and done lots of fantastic artwork to support our learning!
Have a look at our Stonehenge pictures and our Stone Age jewellery.
WAGOLL stands for 'What A Good One Looks Like' and whenever we have done some WAGOLL work, it is displayed as a fantastic example of work to be proud of! Here is some WAGOLL work:
In the week leading up to Remembrance Sunday, we did some activities in school to mark the centenary of the end of the Great War. We discussed how World War 1 started, and what the effects of war were for everyone who was involved in it.
We also did some brilliant art, using charcoal and tissue paper to create a poppy.
To raise money for charity (and to celebrate Christmas!) we have held a Christmas Jumper Day. Here are Year 4, proudly wearing their most Christmassy outfits.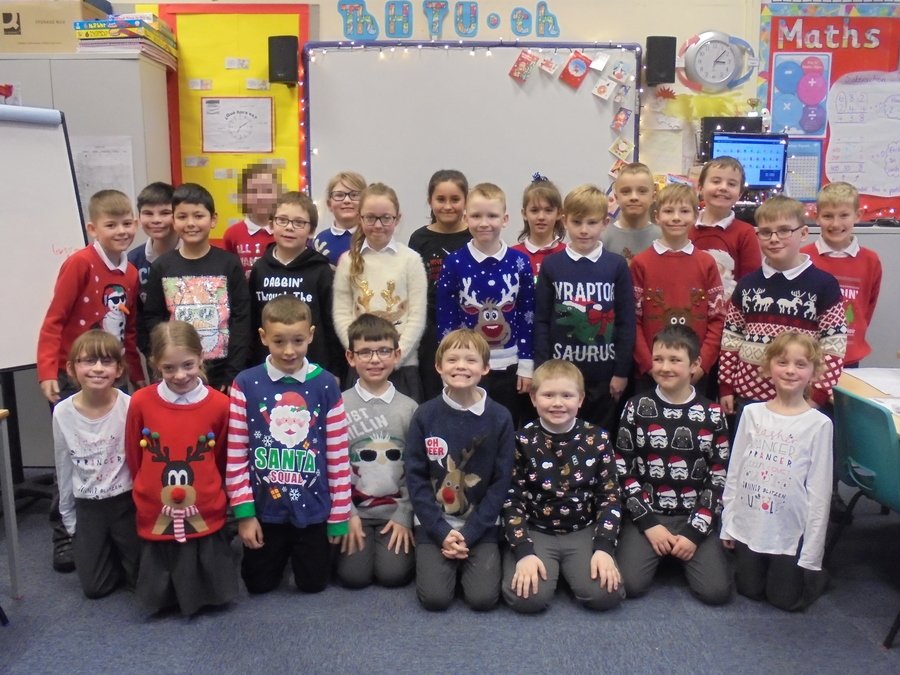 For Enterprise Week, we decided to raise money by selling hot chocolate to the rest of the children in juniors. We discussed ideas in PSHE, and decided that this would be the best option as it would cost little to make, but we could make lots of money charging for the hot chocolate - it gave us the best profit margin. We even offered the optional extra of squirty cream and marshmallows for 20p extra! We managed to make £180 in total!
As part of our topic, we were lucky enough to be visited by two Ancient Greek experts who spent the day with us, teaching us lots of different things about the Ancient Greeks! We had lots of fun, making masks and models, dressing up and acting and exploring what it would have been like to live in Ancient Greek times. What a fantastic day!
For Science Week this year we have explored how dirty different places are around school! We used cotton buds to take swabs of places that may be used often, or become dirty quite easily, such as keyboards, the photocopier, the bin lid, door handles and even a toilet seat - yuck! We will grow the bacteria in a substance called agar and see what is the dirtiest place in school!